See on Scoop.it – Idle No More Movement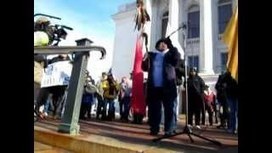 Rising up against the mining bill in Wisconsin coming together for a powerful spiritual rally declaring NO! No mines!. Strong speakers Native American and Allies and Elders to children taking a stand together.
Wenona Gardner's insight:
I was at the state hearing in the Madison, WI at the Capitol ready to testify when over 100 people were denied to testify including myself. Many were turned away simply because they lived in Waukesha and Milwaukee. And they call this a STATE hearing?!?! Each person was given 2 minutes to testify. Unless you were in a group. I saw a delegtion of three Ojibwe representing one nation came forward to testify and were told the entire group only had 2 minutes which meant each Ojibwe representative was only allowed 40 seconds to speak. This broke my heart and I wept. This is what they call nation to nation cooperation?
So, I returned back to Madison later that week to attend the Idle No More Stop the Mines! Rally at the Capitol to witness the testimonies. This is some of the statements that I heard that day! – Wenona Morning Star Gardner
See on www.youtube.com